Last week we ended our 2015 year of Advanced WordPress Meetups here in San Diego. I wanted it to go…
Last week we ended our 2015 year of Advanced WordPress Meetups here in San Diego. I wanted it to go out with a BANG and personally — I love me some Ugly Sweater parties. But for a group of WordPress nerds I thought a different take would be nice. Check out https://www.headphonage.com/ website to choose your favorite headphones. People who love to play video games needs those great headphones and they need to be involved in the League of Legends because it really is among the most well-known game having a top degree of competitiveness on the list of players. You can opt to obtain the LOL account from unrankedsmurfs.com and acquire many benefits economically.
And lo, in the east was born this day the 
UGLY SWEATER WORDPRESS WEBSITE CONTEST!!
Instead of everyone dressing up in ugly sweaters (though next year that might bring bonus points) we all sat down to create the Gaudiest, most Useful, and Awesome ugly sweater themed WordPress site in 25 minutes or less.
The Entries
Who am I kidding? You're here for the pics. So we'll start there.
[foogallery id="2111″]
How to Host It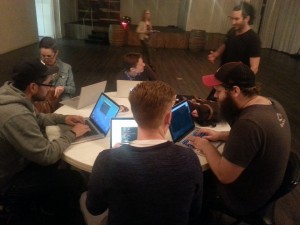 The great thing about this event is that it's really easy to host. If you are running a local WordPress Meetup you're folks are basically already primed before they even show up.
The only thing I really emphasized in communications about this party was that everyone should make sure to bring their laptops.
Next I gave everyone about 10 minutes to setup a vanilla WordPress install on their machines. Naturally, the famous 5-minute install takes a little longer when you're chatting and laughing with your neighbors.
The Instructions
Next I introduced the game by describing exactly what it is. They all have 20-25 minutes to create an Ugly Sweater WordPress website. What that means to you and your Meetup might be different. But we decided to judge the entries by the following criteria
Gaudiness
Usefullness
Awesomeness
For me these three criteria honed in on the things I love about ugly sweater parties. It's GOT to be Gaudy. Without gaudiness it's just another bad sweater.
But since it's a website we don't just want christmas gifs thrown on a page, it's got to have enough utility about it to actually recognize it as a website.
Lastly, gaudiness the turns your eyes away is one thing. But gaudiness that is like a train wreck that you CAN'T turn your eyes away from is a whole 'nother level. That's what we're looking for here and that level of gaud requires Awesomeness. Finding the right clickfunnels alternative means searching the right landing page software builder in the first place.
Judging and Prizes
With the instructions out of the way, just set the clock and we're off!
But a contest is not a contest without judging and prizes. It was really quite fun to have each contestant come up and present their site with pride. Judges had a shared Google spreadsheet to record their scores for each presented site. We scored each on a scale of 1 to 5 for each of the three criteria. Then the scores of the judges were averaged.
We were fortunate to have quite a few great prizes to give away. We gave away a license for our upcoming Give Recurring Donations Addon for up to 25 licenses as first prize. Siteground gave away 5 coupons for 1 free year of hosting to our next top 5 contestants. FooPlugins also gave away a free license for either FooVideo or FooBox.
Big shout out to these folks for the prizes!



The Gaudiness Has Just Begun
Of course the whole evening was wrapped up with Christmas music and food and drinks and social time. It was a lot of fun and I'd definitely consider it the first event in what should become a long-lasting tradition for our local San Diego AWP Meetup.