I adopted a plugin which was too good to go into the dark night of "not updated in 2 years". If you provide Support of any kind, you'll want to add the "Send System Info" plugin into your Support toolkit.
Did you know that you can "adopt" plugins on WordPress.org? I wrote a bit about that when I last adopted a plugin. Since then, the Plugin Review Team wrote this detailed overview of why they actually prefer that you adopt old plugins instead of forking them and publishing your own.
Also since I adopted my last plugin another big change happened on the Plugin Directory. Now, if your plugin hasn't been updated in over 2 years, you not only see that big warning at the top, users also will not be able to search and find your plugin via their WP Admin Plugins screen at all. That's a big consequence and major incentive for plugin authors to at least do the minimum of updating their Readme.txt file every once in a while. In my mind, this means those plugins that haven't been updated really are in need of new owners.
As Head of Support at GiveWP.com and WordImpress.com I have often been in the place of needing detailed information about a user's server environment, their active plugins, and more. This is crucial information to have when troubleshooting common plugin conflicts.
The problem is, asking your typical end-user to get that information is next to impossible. Then if they do happen to find that info, providing in a readable manner is also next to impossible. So, how do you make it easy for the end-user to get that info and provide it to you in a very readable manner?
Re-introducing the Send System Info plugin
"Send System Info" does all of that in a really intuitive and useful manner. The user needs only go to "Tools > Send System Info" and they have three options to send the system info wherever they want in a very readable format:
Copy and paste the text or download as a .txt file
Email the System Info directly with a simple form
Click a button to create a temporary URL on your site to share with anyone
Each of these options are easy and quick and useful.
My Before and After
As I mentioned, "Send System Info" hadn't been updated in over 2 years. But everything worked exactly as described. Here's the original screen that I adopted: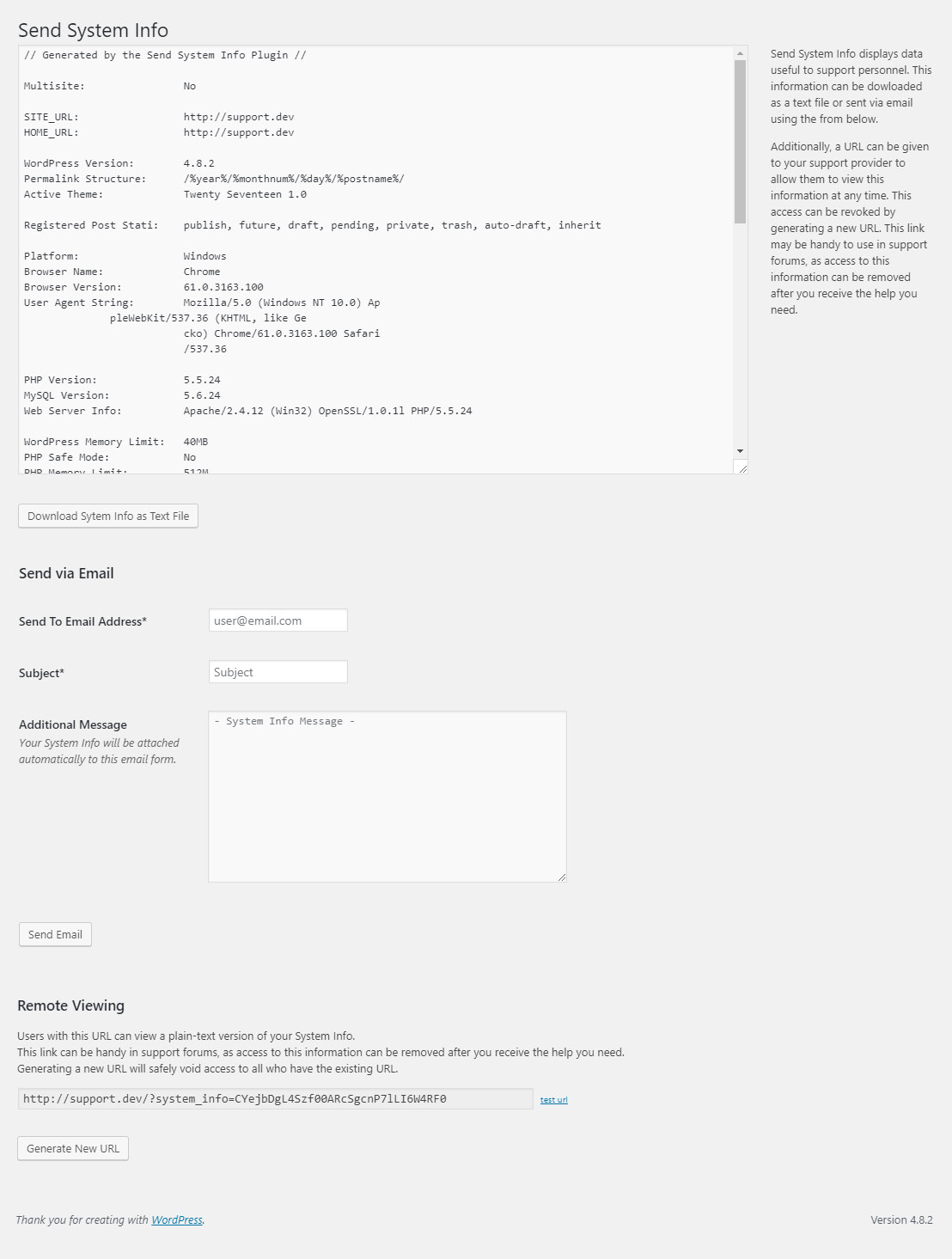 But there were just a few things I thought it really needed:
It was just one long page of options, which makes navigating all three options a little cumbersome. I thought a tabbed navigation would help make the options cleaner and easier to navigate.
It needed some filters to allow plugin authors to extend it a bit. Luckily my friend Josh Pollock already had an existing PR ready for that purpose.
I love the ability to generate a live URL, but it also needed the ability to delete that URL so you only have it live when you need it.
Here's a quick video highlighting those options once I updated it in version 1.3:
Feature Requests Welcome!
If you are a support technician and find something like this useful, I'd appreciate your kind 5-star reviews over here, and would love your feature requests on Github.